The IB has collaborated with the University of the People (UoPeople) and launched a tuition-free, online Master of Education (M.Ed.) programme. The M.Ed. offers teachers and schools across the world an opportunity to further their careers, regardless of where they live and teach.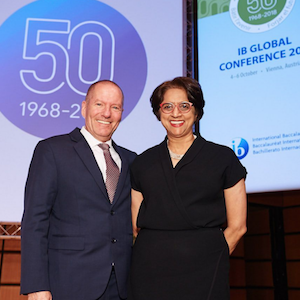 The M.Ed. programme was developed to address the shortage of qualified educators around the world and to enable teachers and educational administrators to advance their knowledge and careers regardless of where they live or how much they can afford. From today onwards, UoPeople will begin accepting applicants to start their studies as early as January 2019. Both IB and non-IB teachers are welcome to apply.
"We are extremely excited to be collaborating with the IB to launch this programme, based on our compatible missions and values, which include a commitment to increase access to quality education", said UoPeople President Shai Reshef, who is also one of the speakers at the IB Global Conference in Vienna (4-6 October 2018).
"To continue to sustain the quality of teaching and learning demanded by IB programmes, there is a pressing need to ensure there are a sufficient number of high quality teachers", said Dr Siva Kumari, Director General of the IB.
Read more about UoPeople here.
These FAQs [124 KB]
provide more detailed information about the programme.
Learn more about the M.Ed. programme and ask questions during Facebook Live, Twitter Q&A and Instagram Live sessions hosted by UoPeople on Thursday 18 October 2018.
What are you doing this Thursday? Joining our Facebook, Instagram and Twitter LIVE events, we hope! 🙏 Tune in and ask us anything about our new tuition-free Master of Education in Advanced Teaching w/ @iborganization #UoPeople #Education #HigherEd #IB #HigherEducation #Teachers pic.twitter.com/cJ6TjqvYdP

— UoPeople (@UoPeople) October 16, 2018