The International Baccalaureate (IB) has joined forces with Arizona State University (ASU) to become an official career-related studies (CRS) strategic partner. This collaboration aligns with both organizations' mission to use education as a tool to build a better world, leave a positive impact on the community and empower students to overcome the challenges of the future.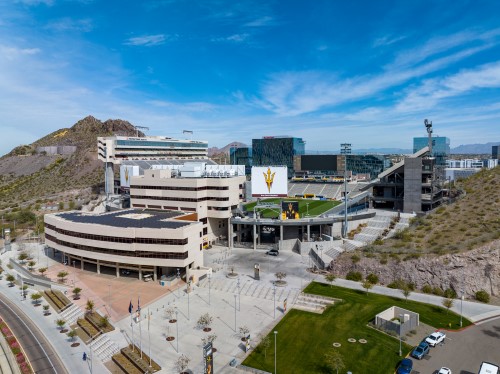 The IB is entering into a historic partnership with ASU in the United States and for students globally. ASU will become a Career-related studies strategic provider for the Career-related Programme (CP), giving CP students access to 60 online, college-credit-bearing courses connected to career pathways in addition to certificated programs such as Google Informational Technology, Business Data Analytics, and Project Management.
Successful completion of IB's Career-related Programme (CP) has been officially recognized by ASU to meet the requirement of proof of high school graduation, opening new opportunities for students to be considered for higher education in the United States.
Maria Anguiano – Executive Vice President of ASU's Learning Enterprise – stated, "This partnership extends beyond providing pathways to higher education; we're reimagining how we equip the next generation of learners to thrive in an increasingly complex world. By collaborating with IB, ASU expands our ability to impact learners everywhere, fostering a global community of forward-thinking, adaptable learners with boundless potential."
During the IB Global Conference celebrated in Toronto, Canada, the IB announced the agreement between the IB and ASU, a milestone that represents the first step in a fruitful relationship that will build a deep commitment to serving students globally, providing them with a wider range of possibilities when deciding the career path of their choice.
"We are absolutely thrilled to announce this transformative partnership with ASU. This historic collaboration is a beacon of excitement and optimism for students in Arizona, the United States, and globally," stated Robert Kelty, the IB's Head of Development and Outreach. "The alliance between the IB and the #1 public university for international students, aligns perfectly with our missions. Our partnership signifies a new era of educational opportunities, forging a path toward brighter prospects for students everywhere."
The CP is an innovative blend of academic study and career skills that incorporates the vision and educational principles of the IB into a unique programme specifically developed for students who wish to engage in career-related learning. CP students engage with a rigorous study programme that genuinely interests them, while gaining transferable and lifelong skills in applied knowledge, critical thinking, communication, and cross-cultural engagement. The reflective project associated with their career-related studies provides excellent preparation and experience for the kinds of undergraduate research required for further and higher education.
Read about ASU admission requirements.
Learn more about the CP.