Thomas Hagoort was President of the International Baccalaureate Organization (IBO) Council of Foundation between 1990 and 1996. The Council preceded the Board, with the President acting an equivalent role to the Chair.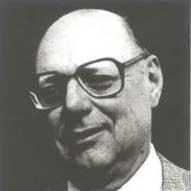 He graduated from Harvard Law School in 1957 and was admitted to the New York State Bar in 1958. He became a Senior Partner at the Wall Street law firm Cleary, Gottlieb, Steen and Hamilton.
His involvement with the IB began in 1977 when he was elected to the IB North America Board of Directors.
During the next two decades he worked tirelessly to strengthen the presence of IB in North America and to improve the quality of services provided to member schools through the IBNA office in New York.
Thomas was elected President of the IB North America (IBNA) Board in 1980; a post he held until his election to the Presidency of the IBO Council of Foundation and the Chair of the Executive Committee in 1990.
During his tenure as President of the IBO Council of Foundation and Executive Committee Chair, Thomas maintained his association with the IBNA Board.
Throughout his 20 years of service with the IB he was committed to the IB's mission of fostering international understanding, and this guided his work.
Thomas was a long-time President of the Montclair, New Jersey School Board and the Board of Directors of Montclair Hospital.