Dr Tobias Meili is a seasoned corporate and commercial lawyer with a passion for responsible business conduct.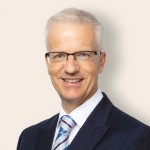 He has held leadership positions in international corporations and is currently serving as Managing Partner at Wenger Plattner, where he specializes in Compliance and Corporate Governance matters.
Prior to joining Wenger Plattner, Dr Meili served as General Counsel Corporate Legal at Syngenta, an international agricultural company, where he led the Corporate Legal Affairs team and played a key role in mergers and acquisitions. He also designed complex frameworks, including the company's compliance and business human rights frameworks, and was a member and later Chairman of the Board of Trustees of the Syngenta pension fund.
A firm believer in responsible business conduct, Dr Meili has done extensive advocacy work on the topic. From 2021-2022, he taught a Master class at the University of St. Gallen on this subject.
In addition to his leadership roles, Dr Meili gained extensive experience as legal counsel for companies such as Accenture, PWC Consulting, Logitech and Connectix Corporation and worked as attorney for the Swiss law firm Lenz & Staehelin.
Dr Meili earned his doctorate (Magna Cum Laude) from the University of Zurich and holds a Master of Laws (LL.M.) degree from the University of California, Davis. He is a member of the Swiss and the California Bars.