Jean-Christophe Deberre is a highly regarded French educator and leading advocate of French culture internationally.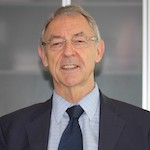 He most recently served as Managing Director of the Mission laïque française (Mlf) and the Office scolaire et universitaire international (OSUI) for over 10 years, from 2009 to 2020.
A teacher in France at the start of his long-standing career, Mr Deberre became a teacher trainer at the Ecole Normale Supérieure de Bamako (Mali) from 1979 to 1985, after which he went on to become the Director of the French Cultural Centre in Djibouti (1985-1988).
Between 1988 and 1993, Mr Deberre held senior leadership positions. He headed the educational systems support office at the Ministry of Cooperation, and then joined the body of educational district and regional educational inspectors in 1991. From 1992 to 1993 he worked as an advisor to the Chancellor of the educational district of Versailles where he was responsible for monitoring the educational policies of the district.
Mr Deberre served as cultural advisor at the French Embassies in both the Ivory Coast and Senegal, after which he became an advisor, then deputy director of the cabinet, at the Ministry of Cooperation from 1997 to 2000.
Over the next 10 years, he headed the department of cooperation and cultural action at the French embassies in Morocco and Madagascar, and in 2005, he was appointed director of development policies at the Ministry of Foreign Affairs. From January 2008 to August 2009, he served as deputy director for Africa in the United Nations Development Programme (UNDP), responsible for Western and Central Africa.