Dr Piet Gathier was President of the International Baccalaureate Organization (IBO) Council of Foundation (as the Board was previously known) between 1984 and 1990.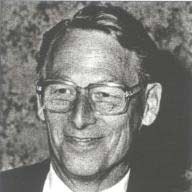 Piet joined the IBO Council of Foundation in 1971 while he was Director General for Secondary Education in the Netherlands.
He arranged for the first gathering of governments in the Netherlands in 1976 to raise money which was to help the IBO through a very difficult financial period, and to acquire essential recognition of the IB at government level.
The government funding which stemmed from this probably saved the IB from closure (which had been foreshadowed in a circular to all IB schools from the IB Director General in 1976).
When the Standing Conference of Governments was officially established in 1978, as a result of that inaugural meeting in the Netherlands, Dr Gathier was its first Chair; a position he held until 1984.
As advisor to the royal family in the Netherlands he encouraged the Crown Prince - now King of the Netherlands - to apply to study the IB Diploma Programme (DP) at United World College (UWC) Atlantic College where he was successful in gaining a place.
Dr Gathier was also responsible for allowing the adoption of the IB by a large number of state schools in his country and therefore creating a welcoming climate at government level in the Netherlands for IB programmes.
Piet used his great energy to look for ways to improve the IB and to promote its cause. He had important contacts at an international level, particularly with the European Union in Brussels. He had the gift of reconciling differences by bringing divergent views closer together.
He gave 19 years of continuous voluntary service to the IB.