From 1981-1984, Rector Seydou Madani Sy was President of the International Baccalaureate Organization (IBO) Council of Foundation. The Council was the predecessor of the Board of Governors.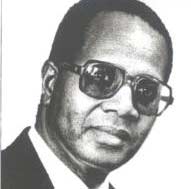 He studied in France, at the University of Caen and the University of Paris, and then studied law at the University of Dakar.
Seydou spent the early part of his career in Dakar, where he was first a lecturer and then a professor at the University of Dakar.
In 1968 he became Dean of the Faculty of Law and Economics; in 1971 he was elected President of the university, a position he retained until 1986.
At that time he joined the government of Senegal as Minister of Justice, for three years, before serving as a Special Advisor to the President. In 1990 he left the government to go to London as the Senegalese Ambassador to the United Kingdom of Great Britain and Northern Ireland, a position he held until 1993.
Seydou used his position as a statesman and politician, with high-level connections in France and Africa, to advocate for the IB in the Francophone world and particularly in Africa; where he ensured that his children followed the IB's Diploma Programme (DP) in United World Colleges.