Diploma Programme (DP) graduate Jeremie Gluckman-Picard reflects on their experience in Dr Ranta's geography class and how it inspired them to be a better human being.
How geography helped me become a good human being
By Jeremie Gluckman-Picard (they/them)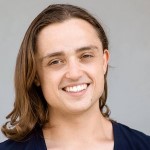 Dr Ratna Ghose spent 15 years teaching the IB and is now the head of school at Capstone High in Bangalore, India. She took her experience with competency-based learning pedagogy that she acquired as an IB teacher and transposed it to the new Indian curriculum rollout and even remote learning. We sat down on a video call after over a decade since I had last been in her classroom to catch up.
I was born in France, raised in the U.S. and spent my high school years in India, effectively branding me as a third culture kid.
When we left San Francisco (also known as the Bay Area) for Bangalore, India in the summer of 2008, my world was turned on its head. I had just spent three months studying abroad in Paris and was about to enter my junior year of high school in an entirely new continent. My white gaze couldn't help but imagine the delights of elephant rides to school, colorful sarees and lush jungles. We packed up 13 years of our Silicon Valley home and flew to the opposite side of the globe to move into a very different version of the California dream.
At the time, Bangalore was going through a technological revolution with California-themed gated communities popping up at the edges of the city and call centers, glass towers and strip malls being built before our eyes.
I don't think I would've been able to make sense of it all if it wasn't for Dr. Ratna. As an educator, she is motivated by the quest for knowledge. After her PhD, she was teaching undergraduate and post-graduate geography honors students under the national curriculum. She was drawn to the IB programme because it felt more application-oriented and concept-based; rooted in project learning and competencies.
"Geography is all about connecting your classroom to real life", she explained to me on our call.
"When we started working together on your final paper, you were interested in how the gated community you lived in influenced the development of the surrounding areas. My goal was to instill an interest in the subject and encourage you to apply your knowledge to a real-life situation".
I recall coming to my teacher with questions and leaving each class with actionable structures to seek out answers and apply them in my community. Dr. Ratna equipped me with the tools to conduct original research. I carried out random and stratified surveys of residents in and surrounding the gated community, ran probability and chi-squared tests to justify my hypotheses as well as correlation coefficient analysis. I partnered with local non-governmental organizations (NGOs) and non-profits to gather information about local resource management practices.
Seeing the urban landscape change around me and studying its impact in my IB geography class gave me a sense of how Silicon Valley, as a model, changes the urban landscape and people's lives in communities across the globe. Back in the Bay Area, it was difficult to imagine a different future because the city planning was set and infrastructure had already been built. In Bangalore and other "innovation hubs" where the tech industry sets up shop, there is an opportunity to take a different approach and learn from the Bay Area's mistakes. I think it is important to offer spaces and have a dialogue with residents in areas slated to be developed for the tech industry. If residents from all backgrounds, professions and walks of life aren't consulted, cities across the globe lose their souls as Silicon Valley-style infrastructure tears through their communities. This will result in variations of the mental health, quality of life, inclusivity and environmental crises we experience in northern California.
"You overshot your word limit and you were okay to get lower marks", Dr Ratna recalls. "I teach out of the joy of teaching and to make good human beings. This is key to a sustainable future".
My work with Dr Ratna didn't only instill a sense of research sound methodology but also a desire to get involved in my local community. She offered a space free of judgment and was invested in building trust and nurturing my confidence. This was especially critical when I was navigating high school as an LGBTQ youth in a new host culture. It could've been very easy for me as an expat to live in India for two years and not learn about Bangalore or care about the local area. However, the geography and community service projects allowed me to step out and develop a more nuanced understanding than I would have if I had just stayed within the gates.
As we concluded our catch-up call, Dr Ratna shared, "At the end of the day, when we respect individuality and focus on confidence-building in a student, competency ensues. That is true for any relationship. It all starts with trust".
To this day, I have a particular interest in human geography and the environment. I bring these sensibilities to my work in technology, striving to better understand the on-the-ground impact of this influential industry.
---
Jeremie Gluckman-Picard is a marketing professional who has spent their life striving to humanize tech products. They completed the Diploma Programme (DP) at Indus International School in Bangalore, India. Having lived all over the world—including India, China, France and the U.S.—Jeremie has longed to make a difference by combining all of these experiences and helping others navigate the often rocky terrain of life. They recently published a book about growing up in Silicon Valley. You can connect with them on Instagram here.