Apiorkor Seyiram Ashong-Abbey completed the Diploma Programme at Tema International School in Ghana. After traveling abroad for her university studies at Lafayette College in the USA, Apiorkor returned to Ghana to study at the University of Ghana. She works as a media practitioner and is an acclaimed poet, creative and activist in her free time. Apiorkor is the author of The Matriarch's Verse, a book of poems which seeks to celebrate, challenge and highlight what it means to be Ghanaian in the 21st Century; and all of this is done from her perspective as a third-culture kid.
Why did you originally choose to pursue an IB diploma?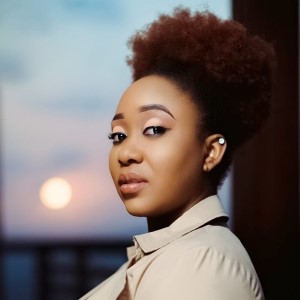 Having attended a high school that was running the Cambridge IGCSE and the IB Diploma Programme initially, for me it was a natural next step to pursue the IB Diploma.

At the time, there had been much talk about how advanced the programme was, how intense and rigorous it could get, how life-transforming it could potentially be and indeed, the word on the street was, that holders of the IB diploma were equipped to be life-long learners and first-class global citizens.

At 17 years old, I was excited about education and the acquisition of knowledge and the idea of enrolling in the DP had my heart racing, for I longed to be a life-long learner and a first-class global citizen, myself. Yet at the same time, despite my eagerness to pursue the IB Diploma, I did not fully comprehend what the IB diploma could do for me in the future.

However, the IB diploma gave me more than just advanced credit. From theory of knowledge (TOK) and creativity, activity, service (CAS) to the very structure of the DP, my time in IB equipped me with the ability to think critically, to analyze situations, to not judge a book by its cover, to have an inquiring mind and to be in tune with my society and my surroundings. I learned how to be mindful of culture and the effect that it has of the psychology of a society and to always remember that by virtue of my privileges, as I have a responsibility to give back and shape my society. These nuggets of wisdom gave me the humility to learn from everyone, everything and every situation that I would encounter, even long after I had acquired my IB diploma.
Who inspired you most as an IB student?
With no disrespect or discredit to any of my teachers, I would have to say that Mr Isaac Darko was the one who inspired me the most. Mr Darko taught me English A1 (higher level (HL)).
I was an all-round student, with many interests and varied talents, so it was often difficult for people (including myself) to tell what my destiny was or most probably should be. However, Mr Darko could read and analyze me, as easily he would an English A1 text. Long before he became my teacher, I had excelled at English Language and Literature but it was Mr Darko who identified my rare ability to deconstruct pretty much any text. He was so animated in class and you could not help but be captivated by his mind. I wanted to have command over the English language like he did. I wanted to be able to be so in tune with my emotions that I could be empathetic towards fictional characters and persona. I wanted to be able pen a heavily technical poem in ten minutes tops. I wanted to be able to apply the lessons of literature in all aspects of my life and learning and it was Mr Darko who inspired me to want to be and eventually to become and to be all of these things.

He became my friend and big brother. We both loved music and God so, together with other students we started a Christian gospel band in school, which still thrives today. And how could such a man not be memorable?
How did you get to where you are today?
Fast forward form the IB to university, when I found myself at Lafayette College, in the USA, and later at the University of Ghana. My IB diploma enabled me to take second- and third-year courses because of the credits that it had allowed me to accrue. This meant that I was able to explore a variety of knowledge areas and at a much quicker pace than my peers. It also meant that I discovered what my passions were early on, which helped me to develop and learn about myself.
Today, I am a media practitioner in Ghana. I work for one of Ghana's leading media houses, as a production executive, broadcast presenter and events manager. I am also an award-winning poet and versatile creative, a writer, an editor, a copywriter, a teacher, consultant, youth mentor and a gender/culture activist. Plus, I am a wife, a mother, a dreamer and a traveler. Wearing so many hats makes my head heavy, of course, but I manage to do it, because the IB diploma and all of its intensity and rigor has enabled me to do so. All of these roles and identities that I have accumulated have given me wisdom which I have incorporated into my maiden book of Poetry, The Matriarch's Verse.
What advice do you have for current IB students?
Pursuing the DP taught me that no single person has monopoly over knowledge, hence it is in my own interest to keep an open mind. To learn from the newborn baby and also from the aged woman on her death bed; from the billionaire and also from the street hawker in my hometown of Accra. I also learned that I would be doing myself a great disservice if I do not do what I can to empower those who are less fortunate than I am; so that they can also have voices to share their bits of the knowledge pie. I strongly believe that it is these lessons that have, in turn, shaped my educational path and have made me a life-long learner and world-class global citizen in my own right.
I would like to encourage current DP students to be appreciative of the opportunity that they have to be a part of this programme. It is difficult to see how something might influence your future, positively, when you have no idea what the future looks like, what it holds. Nonetheless, trust the process, trust your teachers and take responsibility for your own learning. Use the opportunity to learn any and everything that you can. Read widely. Ask questions. Question answers and theories. Make good friends. Learn from your friends. Sit in classes that you are not even taking and learn something new. Dance. Sing. Act. Play an instrument. Advocate for the better. Be a student leader. Befriend the security men, janitors, kitchen staff and drivers. Converse with the principal and administrative staff. Travel. Eat something new. Be the live definition of what the IB diploma represents.
In short, live thoroughly, learn thoroughly and ensure that you grow to become a life-long learner and a world-class global citizen.