The Primary Years Programme (PYP) for children 3-12 years of age builds curious, creative, confident, empathetic and self-motivated lifelong learners who demonstrate multicultural empathy and respect.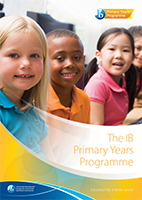 With its student-centred approach to education, students are encouraged to take responsibility and ownership of their learning thereby allowing them to develop knowledge, conceptual understandings, skills and attributes of the IB learner profile.
The programme prioritizes people and their relationships to build a strong learning community and supports personalized and flexible learning, that adapts to diverse needs, cultures or contexts.
Find out more about the PYP.
How the PYP works
The PYP framework involves transdisciplinary approaches to teaching and learning and is based around six broad themes that support an inquiry-based learning environment:
Who we are,
Where we are in place and time,
How we express ourselves,
How the world works,
How we organize ourselves,
Sharing the planet.
These transdisciplinary themes encourage PYP students to build universal skills which require thinking, research and cultural understanding, to develop into well-rounded individuals.
The PYP methodologies reflect the three pillars of school life, that encourage a positive school climate and supports students to develop the skills and attributes of the IB learner profile.
Three pillars of school life:
Unlike the other IB Programmes, PYP students do not sit any examinations. Find out more about the PYP curriculum.
Research about the PYP
A recent study in Australia has found that the PYP curriculum and programmatic elements are "imbued with activities and practices that promote well-being" and that PYP students demonstrate consistently higher levels of well-being compared to similar non-PYP students. Research on the impact of PYP on school change also found numerous improvements to school climate that participants at all or most of the case study schools attributed to the PYP. Participants at every school reported increased focus on social emotional learning and the whole child.
For an overview of PYP studies conducted from around the world, read the PYP key findings.
For further research, read through the PYP research outcomes studies which explore the impact, implementation and outcomes of the PYP curriculum.
"In classrooms, it's collaborative. The kids are coming up with the rules, the essential agreements of "What do we want our room to look like? How do we want our room to flow?" … I think this speaks volumes about our philosophy here and the contribution that the IB has made."
– PYP School Principal
For more information, please read our PYP frequently asked questions.