This page contains the latest updates on the Diploma Programme (DP) global politics course.
The new DP global politics course will be launched in February 2024 for first teaching in August 2024. First assessment will take place in May 2026.
Below you will find an overview of the course updates. For a technical breakdown of the DP curriculum and assessment methods for this course, read the global politics subject brief (SL & HL).
Overview of the new course
DP global politics is for students who want to understand more about how the world they live in works and what makes it change (or prevents it from changing). The course draws on a variety of disciplinary traditions in the study of politics and international relations, and more broadly on the social sciences and humanities. Students build their knowledge and understanding of the local, national, international and global dimensions of political activity and processes by critically engaging with contemporary political issues and challenges.
Flexible and integrated syllabus
The common standard level (SL) and higher level (HL) syllabus is framed around four interconnected components, each with specified prescribed content—the global politics core topics and three thematic studies:
rights and justice
peace and conflict
development and sustainability
The core encompasses wide topics linked to the nature of the subject and its key concepts. These topics find a particular expression in all the thematic studies. The prescribed content from the core can be developed within each of the thematic studies or explored separately to serve as a foundational.
The flexible syllabus allows educators to build the course around their students' contexts and interests as well as contemporary events and developments in global politics. The course develops thinking, analysis and research skills through guided and independent inquiries into political issues and challenges, with a special focus on identifying and engaging with diverse perspectives.
Inquiry-based design
The course integrates concepts, content and contexts through inquiries centered on power and political issues and challenges.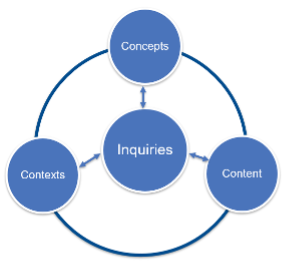 Concepts such as power, sovereignty, legitimacy and interdependence are explored and examined critically throughout the course.
Content informs inquiries through a variety of global politics topics encompassing political systems and actors, power interactions, frameworks, treaties and conventions, relevant terminology and analysis models.
Contexts diversify, shape and channel inquiries through contemporary real-world examples and cases.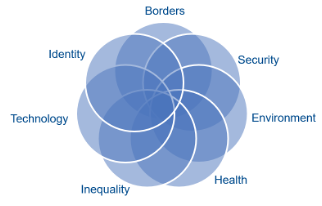 Students in the higher level course conduct extended inquiries around global political challenges, with an emphasis on the interconnected nature of these, the complexities and tensions for addressing them, and a solution-oriented focus that highlights possible courses of action. The higher level extension is not composed by additional prescribed content, but by a set of guiding questions that structure students' research. Students are expected to conduct research on a variety of cases that reflect diverse contexts and relate to multiple global political challenges.
Engagement and agency in global politics
One of the most meaningful pieces of the global politics course is the engagement project, during which students identify and explore a political issue that is of personal interest to them. Through documentary research and engagement with individuals and groups involved, students familiarize themselves with diverse perspectives and gather a deeper understanding of the complexities of political issues. The engagement project not only provides opportunity to link the course topics through experiential learning, but also allows students to develop a sense of agency that goes beyond the classroom.
A challenging assessment model
There are no significant changes for most of the assessment components except for the internal assessment HL oral extension, which has been removed, and a new component, which has been added to HL external assessment.
External assessment
Paper 1 (common for SL and HL). This is a source-based paper that integrates syllabus elements from the core theme: understanding power and global politics. Stronger emphasis will be placed on the relevance and diversity of sources.
Paper 2 (common for SL and HL). This is an extended response paper that links the content from the thematic studies (rights and justice, development and sustainability, and peace and conflict). The paper includes questions directed at one of the thematic studies as well as cross-thematic questions which foster knowledge integration.
Paper 3 (HL only). This new component will be a stimulus-based paper linked to the HL extension inquiries around global political challenges. Students will be able to use knowledge and evidence gathered from their own researched case studies to respond to the questions.
Internal assessment
Engagement project (internal assessment). The focus of this component continues to be on experiential learning and engagement with diverse perspectives, with a strong emphasis on skills development. Further support is offered for facilitating links with the rest of the course components, as well as evidencing the importance of all related planning, researching and reflecting processes and activities for meaningful engagement.