Libbie Gadd is a 2015 Career-related Programme graduate from King Ethelbert School, UK.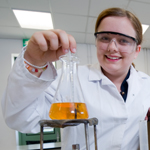 Since studying for the CP, Libbie has been given many opportunities to acquire and develop skills much needed for the workplace.
Combining academic studies with professional development through CP, Libbie gained skills in the field of medical science. During her CP studies, she obtained valuable hands-on experience during a visit to Kent Science Park, where she synthesised Aspirin and conducted a paternity test using DNA samples and equipment used in the field. Studying some of the more theoretical elements made Libbie realise that she would like to become a doctor and studying the CP has given her more skills to achieve this than she ever thought possible.
The service learning project has been Libbie's greatest challenge throughout the programme, pushing her out of her comfort zone to develop skills such as team work and communication, which will not only be beneficial in higher education but also the workplace.
Libbie said: "As a result of the service learning project I gained skills that I didn't think I would, such as advertising, and I built on some that I had previously found difficult to apply to a non-educational situation, for example research."
For her language development element of the CP core, Libbie studied Italian which has, in turn, given her many transferable language skills which she can adapt to learning any language at any time. Languages have also given Libbie the opportunity to network with people from other countries.
"I volunteered to represent King Ethelbert's at a quiz for young people from across the world that was being held locally. This gave me the chance to learn more about other cultures in Europe, America and Asia, and has helped me to understand some of the cultural differences that I am sure I will experience on a daily basis in the workplace," explained Libbie.
Finding her love for different cultures, Libbie has applied to universities that can offer her a chance to study or work abroad – she has received an unconditional offer from Northampton University and a conditional offer from Coventry University. "I am almost 100 percent certain that I would not be in this
position today had I not studied the IB CP and taken advantage of the skills and situations extended to me," said Libbie.