Edward studied Business Studies, Design and Technology (higher level), Film Studies (standard level) and English (standard level).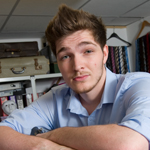 Edward chose these subjects because he wants to work in TV and film as a prop designer however, when he started studying CP he wasn't entirely sure what he wanted to do so felt that if he studied those subjects then they would branch into a whole array of different job opportunities.
Edward explained: "Like me, a lot of 16 year olds don't know what they want to do for the rest of their life so by taking CP I felt like my choices were much more diverse and I wasn't limited to going to university or going into the world of work. My opportunities were kept more open, so depending on what path I took, there were no limitations."
Edward also took part in an engineering education scheme through his Design and Technology subject. The scheme resulted in Edward receiving a Gold Crest Award which is the highest award you can achieve for Science, IT and Maths under the age of 18.
Studying for CP has accelerated the development of Edward's organisational skills, but it has also increased his communication skills and it has made him work better in a team.
Edward said: "My favourite part of the CP was communicating with people that I wouldn't usually liaise with on a day to day basis. We have foreign exchange students and it was great to find out about their culture and other parts of the world as well as learning alongside them."