Holly transferred to Dane Court Grammar School from a non-grammar school to study for CP as her previous school did not offer it, so she chose the alternative option.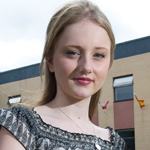 Holly studied Applied Business Studies, Film Studies (standard level), English (standard level) and Design and Technology (standard level).
Holly has elected not to go to university, but instead will undertake a higher apprenticeship, studying Marketing and Administration with a quantity surveyor.
Holly said: "The CP opened my eyes to the number of opportunities that are out there and made me realise that university wasn't my only option. I am a practical learner so an apprenticeship is best suited to me and I am really excited to be able to gain so many new skills. I will be able to use the skills that I learnt while studying for the IB CP in my new job role. I loved that you can study vocational subjects and academic subjects so it leaves you with different options for the future. You don't have to go to university, or you don't have to go into the workplace."