How to become an IB World School
Becoming an IB World School means joining over 4,700 schools worldwide in delivering IB programmes, and becoming part of a community of educators that is growing and developing constantly. The IB's unique implementation is strengthened through our relationships with schools, governments and international organizations globally.
Become an IB World School
If you're ready to become an IB World School, you can start the process here. We'll contact you right away with the information and support you need to begin this journey.
Learning more about the authorization process
The IB is proud of its commitment to provide challenging and unique programmes of education to schools around the world. The authorization process backs up this commitment. As a result of the process, parents and students can be confident that each IB World School, no matter where it is located, is held to the same high standard.
General timeline for the process
The authorization process varies by school and IB programme, but typically takes between two and three years. Below, you'll see an outline of the process.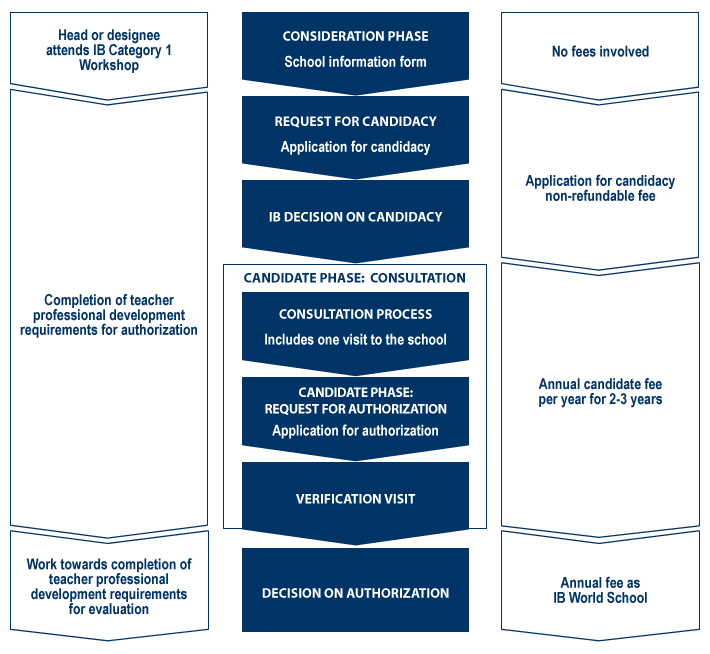 Stages in the authorization process
You can also view global authorization timelines, or find out more about the authorization process for each of the four IB programmes:
While there are specific requirements for each, the authorization process is designed to be consistent across all programmes.
If you'd like to learn more about how the IB can benefit your school, and how we can support you on your journey, please contact us.