We envision this project as a journey with multiple phases and possible levels of engagement, depending on your school's interest, availability and particular context. Both IB World Schools and non-IB schools are eligible to participate in the project. Participating schools may serve children from the ages of 3 to 19 (early years, primary and secondary school students). Learn more about ways to engage below.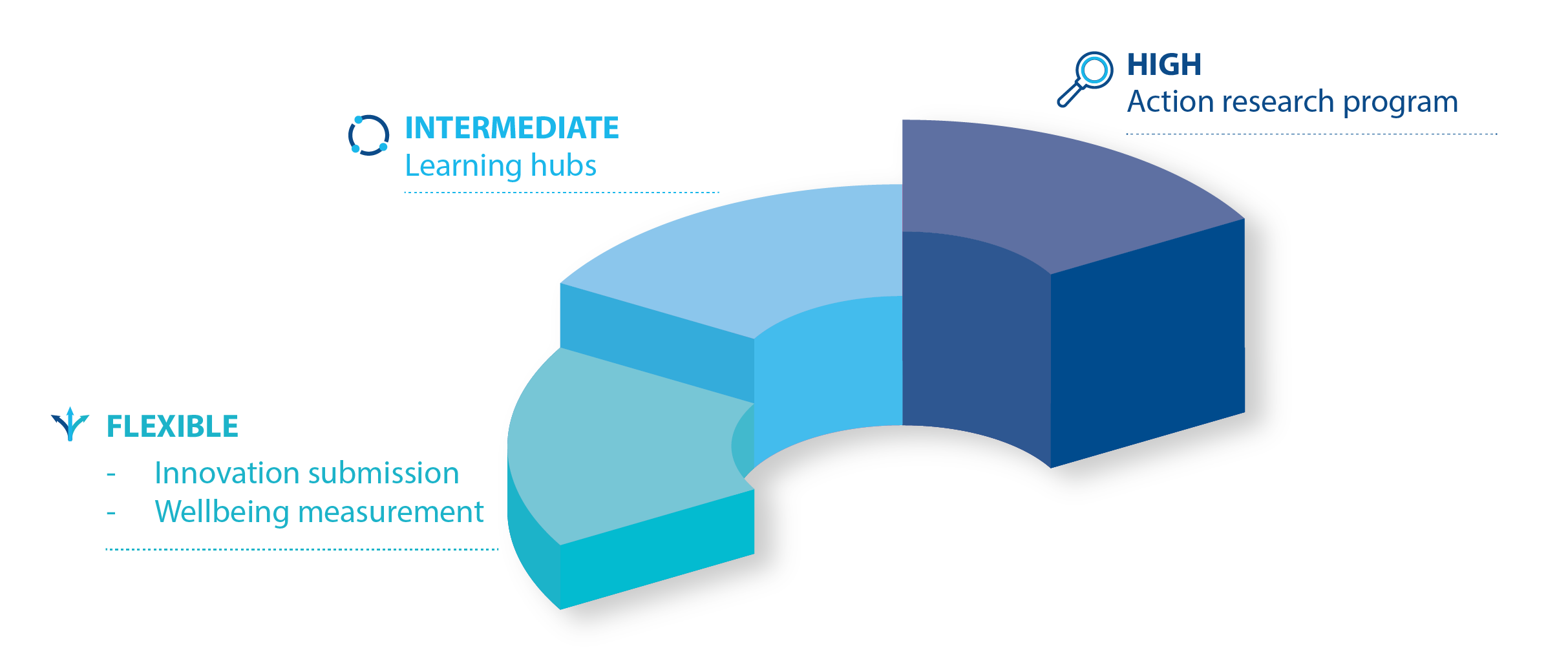 Learn with us
Time commitment: 1 hour (plus optional 30-minute Q&A)
In this webinar, the IB and partner organizations will discuss the project as a whole and describe the various options for participation. This webinar is required for all levels of engagement. Following the webinar, there will be an optional 30-minute Q&A session for participants to ask questions about the project.
The webinar will be held on Wednesday, 7 June at 14:00 GMT. Space in the webinar is limited to 1,000 participants. If you cannot attend the webinar live, we will publish short recorded videos describing each level of engagement on this webpage. While the webinar will be conducted in English, Microsoft Teams supports captioning in French and Spanish.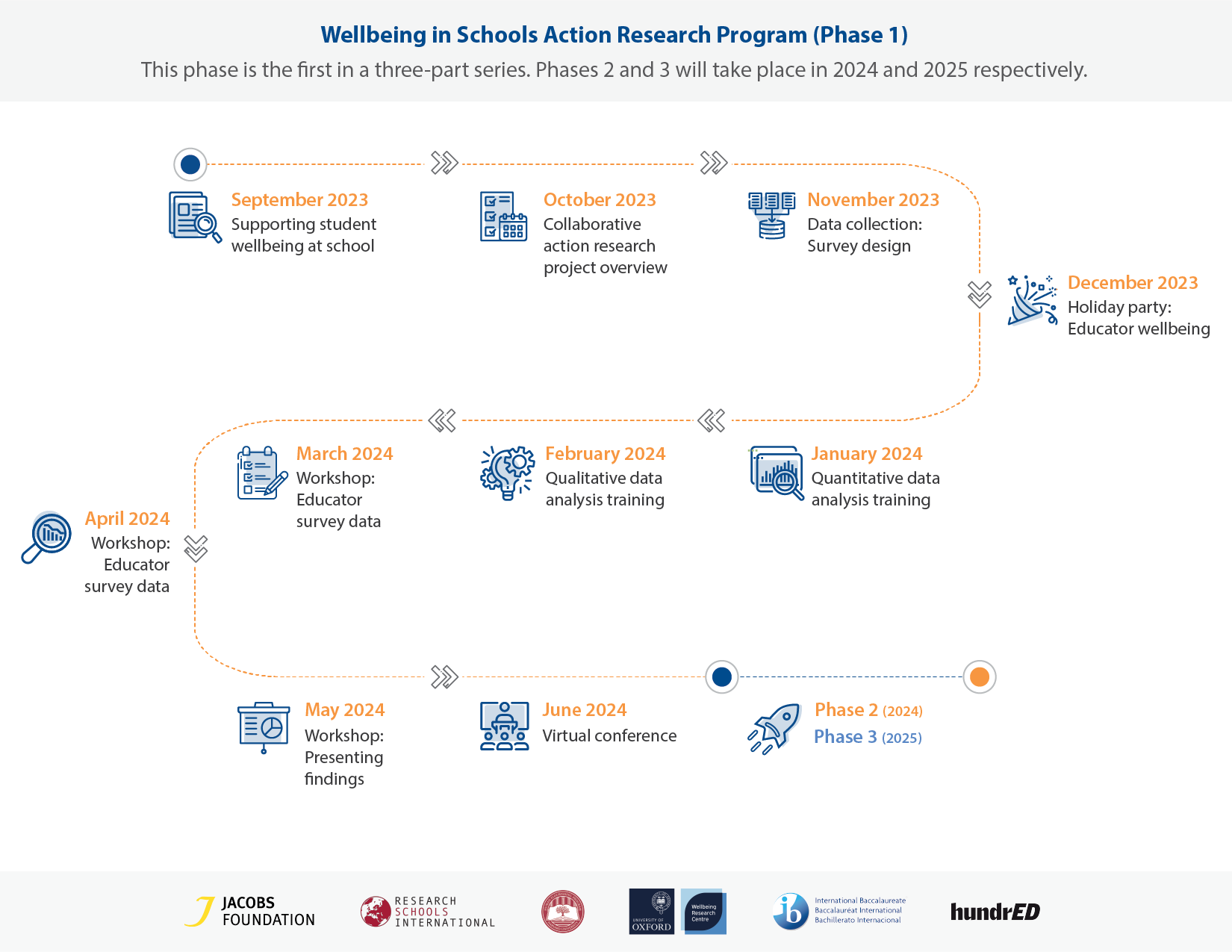 Time commitment: 2 hours minimum per month plus 1-day virtual conference
Requirements: One research lead and at least two other team members to participate from each school. English proficiency is necessary for participation and schools must follow the roughly September to June academic school year. Schools must be able to participate in one of the four program cohorts (based on time zone).
Key elements:
Attend monthly action research workshops and participate in action research program within your school (September 23 - May 24)
Attend virtual conference (June 24)
Complete optional micro-credentials
The online program will launch in September 2023 with subsequent monthly sessions through May 2024, culminating in a virtual conference in June 2024. The research team will lead schools through the process of conducting a collaborative action research project to support student wellbeing. Workshop topics will include research-based practices that promote student wellbeing, survey design, data collection, data analysis, and sharing findings. The action research program will also be accompanied by optional micro-credentials offered by the IB on topics related to wellbeing.
This phase is the first in a three-part series. Phases 2 and 3 will take place in 2024 and 2025 respectively.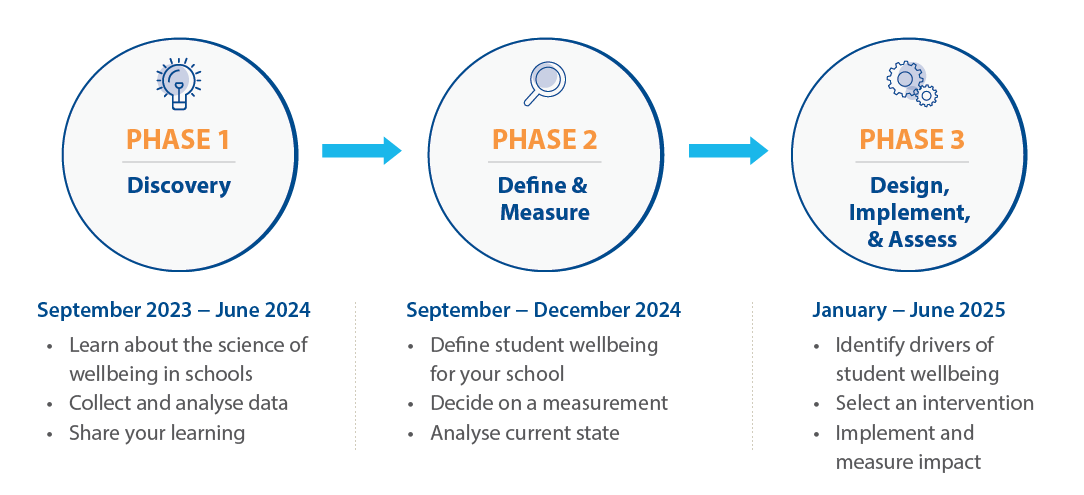 Time commitment: 1 hour each (6 total)
These one-hour learning hub events will provide schools around the world with the opportunity to connect and share wellbeing practices. The IB plans to organize 1-2 events per year from 2023 to 2025. Communications regarding the topic of each learning hub will be sent in advance.
Any flexible engagement can be selected ad hoc or added individually to either of the above levels of engagement.
---
Wellbeing innovation submission
Time commitment: 30-60 minutes (additional time if selected)
Complete a form to submit a wellbeing innovation from your school for consideration as a future "spotlight" innovation.
---
Wellbeing measurement pilot
Time commitment: 2-4 hours
Requirement: Students must be 11+ years
Attend a training on how to use the wellbeing measurement, conduct the measurement (questionnaire) with students in your school, and reflect on the results.
---
Virtual conference
Time commitment: 1 day
In this one-day conference, schools that participated in the action research program will share their findings with the broader education community. English, French and Spanish-speaking individuals or schools may participate.
---
Have questions about this project? Please contact wellbeing.inschools@ibo.org.