We envision this project as a journey with multiple phases and possible levels of engagement, depending on your school's interest, availability and particular context. Both IB World Schools and non-IB schools are eligible to participate in the project. Participating schools may serve children from the ages of 3 to 19 (early years, primary and secondary school students). Learn more about ways to engage below.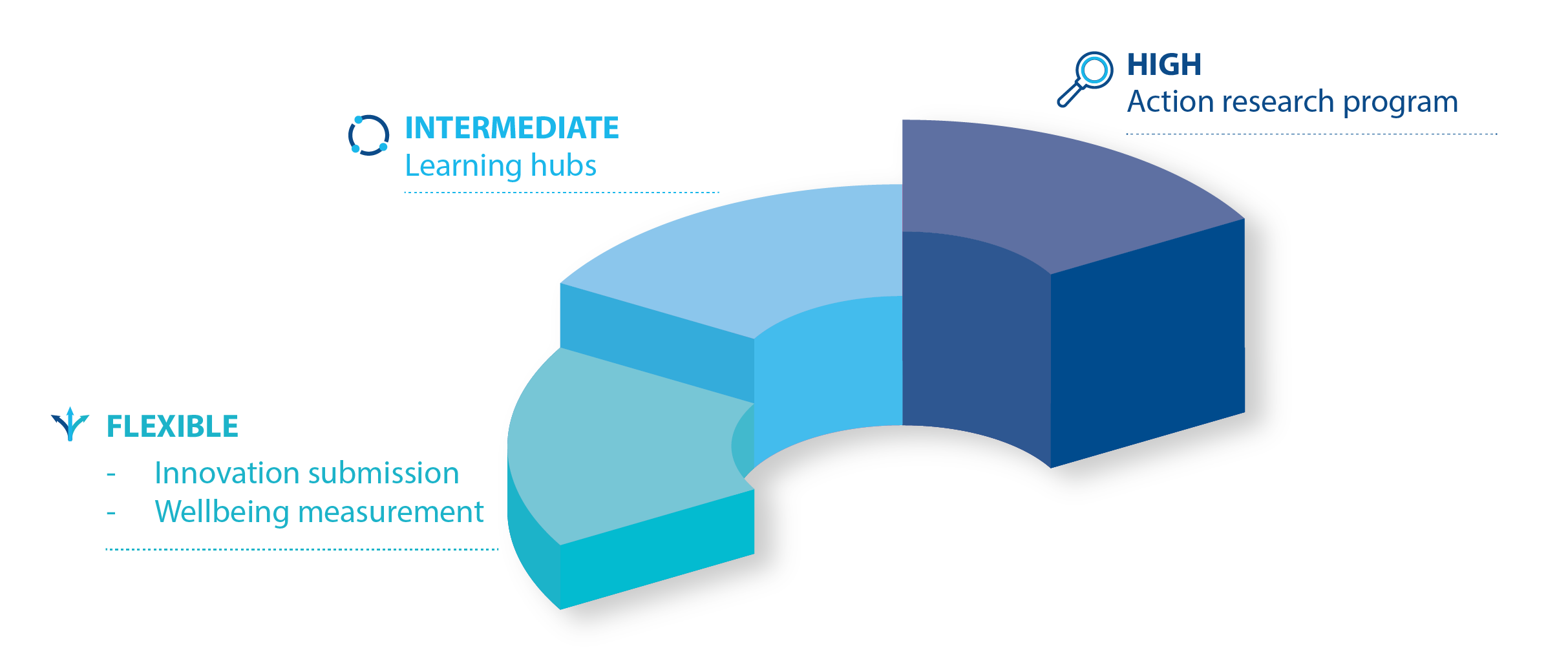 Learn with us
Time commitment: 1 hour (plus optional 30-minute Q&A)
In this webinar below, the IB and partner organizations discuss the project as a whole and describe the various options for participation. This webinar is required for all levels of engagement, to provide an understanding to interested participants about what to expect in the program. We ask all interested participants before enrolling to watch this full webinar which includes a 30-minute Q&A session about the project. However, if you prefer to watch shorter videos instead that describe the various project components individually, you can do so in the sections further down on this page.
View slides from the webinar (PDF, 5.9 MB)
Read frequently asked questions about the project (PDF, 371 KB)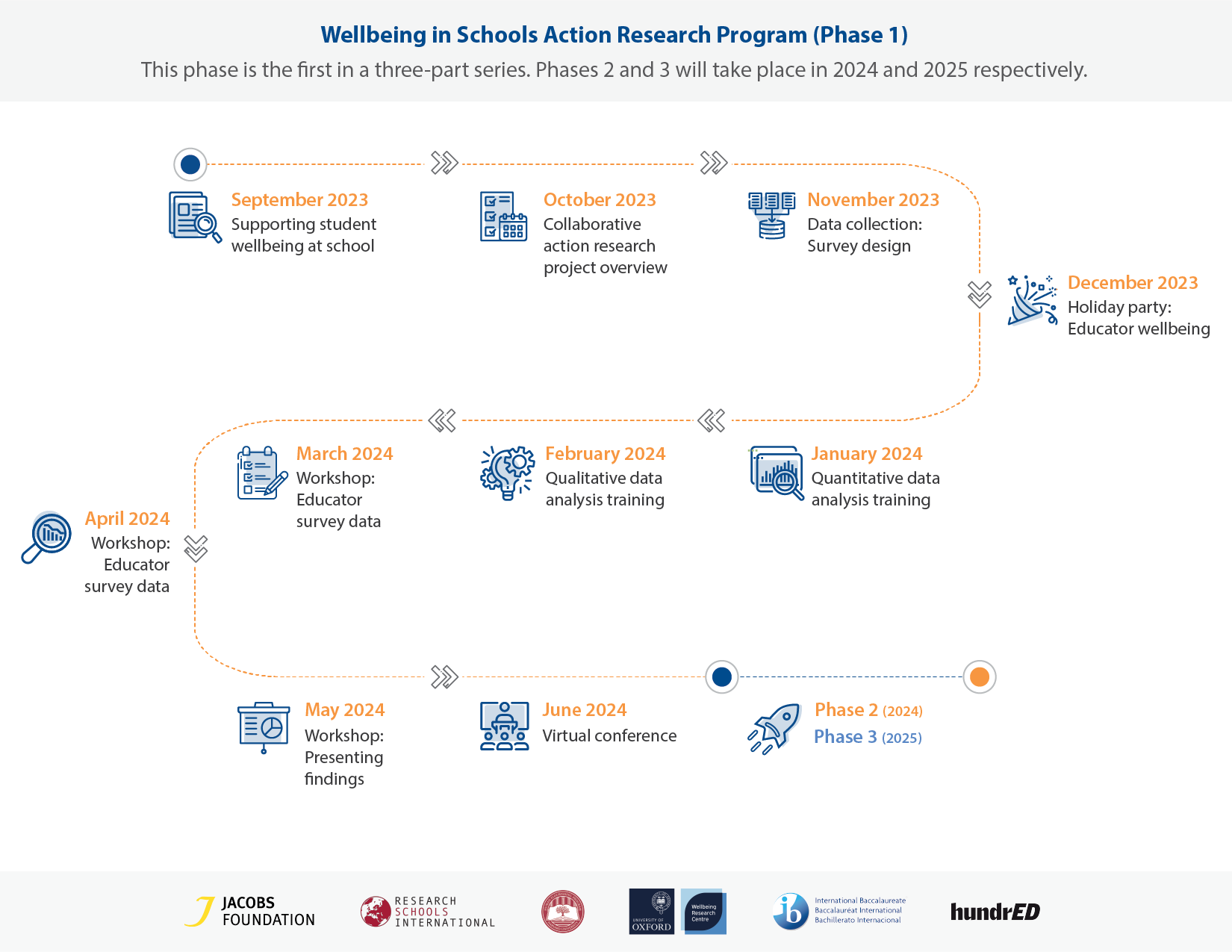 Time commitment: 2 hours minimum per month plus 1-day virtual conference
Requirements: One research lead and at least two other team members to participate from each school. English proficiency is necessary for participation and schools must follow the roughly September to June academic school year. Schools must be able to participate in one of the four program cohorts (based on time zone).
Key elements:
Attend monthly action research workshops and participate in action research program within your school (September 23 - May 24)
Attend virtual conference (June 24)
Complete optional micro-credentials
The online program will launch in September 2023 with subsequent monthly sessions through May 2024, culminating in a virtual conference in June 2024. The research team will lead schools through the process of conducting a collaborative action research project to support student wellbeing. Workshop topics will include research-based practices that promote student wellbeing, survey design, data collection, data analysis, and sharing findings. The action research program will also be accompanied by optional micro-credentials offered by the IB on topics related to wellbeing. Note: enrollment for the Action Research Program is now closed.
In this short video below, you will receive an overview of what you can expect from the action research program.
This phase is the first in a three-part series. Phases 2 and 3 will take place in 2024 and 2025 respectively.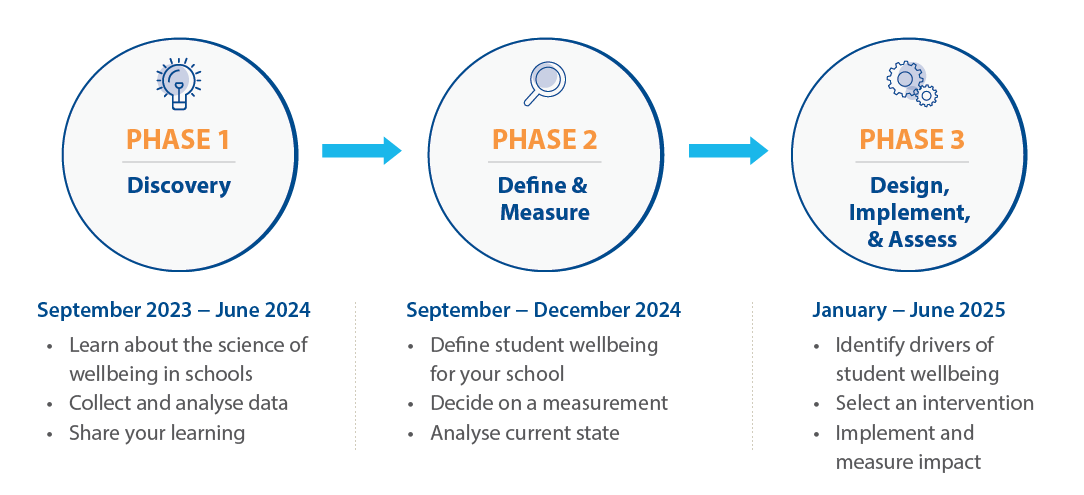 Time commitment: 1 hour per learning hub (6 total)
What are learning hubs?
Learning hubs are open, collaborative virtual spaces dedicated to enhancing knowledge and practices related to wellbeing in the school context. They encourage collective growth by bringing together enthusiastic participants to explore and elevate their understanding and practices of wellbeing in school. Learning hubs allow participants to co-create a dynamic school wellbeing community. Participants can share practices, connect, and shape thought leadership opportunities to benefit your school community and contribute to global understanding of school wellbeing. Learning hub events will take place over the course of 2024 and 2025.
What to expect
December 2023: Research Lead receives a learning hubs intake form
The intake form gathers information about your school's interests, expertise, and current capacity to join our wellbeing community of practice. Through this form, your school will share specific areas of interest related to school wellbeing. This information will help us identify particular topics of interest for organizing meaningful learning hubs for your school.
March 2024: Learning hub sign-up form
Your school will receive an invitation to sign up for a learning hub based on your school's interest in the topic and in participating in the community of practice.
19 April 2024: Inaugural learning hub (virtual)
Please note that to ensure the diversity of participants in this inaugural community event, a maximum of two representatives per school can participate.
June 2024: Wellbeing in schools virtual conference
In this event, you will learn more about opportunities to engage in learning hubs on wellbeing in the future
In this short video below, you will receive an overview of what you can expect from the learning hubs.
Any flexible engagement can be selected ad hoc or added individually to either of the above levels of engagement.
---
Wellbeing innovation submission
Time commitment: 30-60 minutes (additional time if selected)
Complete a form to submit a wellbeing innovation from your school for consideration as a future "spotlight" innovation.
Please watch this short video below if you are interested in learning more about the innovation submission.
---
Wellbeing measurement pilot
Time commitment: 2-4 hours
Requirement: Students must be 11+ years. Ability to implement the student wellbeing questionnaire in at least one classroom in your school.
Attend a training on how to use the wellbeing measurement, conduct the measurement (questionnaire) with students in your school, and reflect on the results.
This short video below explains the wellbeing measurement pilot component of the project.
---
Virtual conference
Time commitment: 1 day
In this one-day conference, schools that participated in the action research program will share their findings with the broader education community. English, French and Spanish-speaking individuals or schools may participate.
---
This project aims to support a whole school/organization approach and, therefore, the enrolment form will be completed under the name of your school/organization. In the form, you will be asked to add the names and contact emails of the team members interested in representing your school/organization in this project. The form will also ask for a 'Research Lead' to be the main point of contact for this project in your school/organization.
For all project components combined, there is no maximum number of staff members from your school/organization that can participate. However, for the Action Research Program component, a minimum of 3 participants are required (Research Lead plus 2 additional participants), with a maximum of 20 participants.
Before starting this form, make sure you have on hand:
A designated Research Lead
The number of people from your school/organization that will be enrolled in the project.
The names and contact emails of all project participants in your school/organization. If there are more than 20 participants across project components, please prepare an Excel file to be uploaded in the enrolment form. The Excel file should include the following columns: first name, last name, email address, and role.

Please select roles from the following list: Administrator, Consultant, Head of Department, Head of School/Principal/Head Teacher/Director, Librarian, Programme Coordinator, School Counsellor, School Nurse, Subject Coordinator, Teacher.

Reminder: For the Action Research Program the range of participants should be between 3 and 20.
By completing this form, you will be formally signing up as a school/organization to participate in specific activities for the Wellbeing in Schools Project.
The full project enrolment form will be open until September 10, 2023. Following this date, registration to participate in the Action Research Program will close, but all other engagement options will remain open until the activity is about to begin.
Have questions about this project? Please contact wellbeing.inschools@ibo.org.