Bachillerato UPAEP Tehuacán became the 200th IB World School to offer the IB Career-related Programme (CP), authorized on 26 June 2018. The CP provides students at Bachillerato UPAEP Tehuacán with career-readiness and gives them the knowledge and the skills they need in order to expand their world view. The programme also helps students acquire skills directly related to their field of interest which, in turn, ensures that they are better able to design their personal and professional future.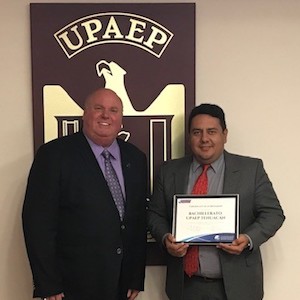 "The way in which the CP is structured at our schools allows students to choose from among five career-related study options: Health Coaching, Prototype Design, Entrepreneurship, Cultural Leadership and Management, and Community Management. We have come to the realization that students who know exactly what they want to study at university choose to enroll in the CP, while those students who have not made up their minds opt instead for the Diploma Programme," said Etienne Herrera L'Humbert Ducret, the international programme coordinator for the UPAEP university-preparatory school system.
The UPAEP university-preparatory school system dates all the way back to 1973 and is today the largest private education network in the Mexican states of Puebla and Tlaxcala. Currently, there are a total of 10 university-preparatory schools across Puebla and Tlaxcala. The IB Diploma Programme (DP) has been offered at UPAEP's university-preparatory schools since 2010 and the CP since 2012, and it is the first school system in the world to offer the CP in Spanish.
"For the UPAEP university-preparatory school system, the fact that Bachillerato UPAEP Tehuacán is being honored as the 200th IB World School to offer the CP is recognition of the commitment and of all of the hard work that our collaborators and the greater UPAEP community have put into completing the IB authorization process, which is no easy task – not to mention getting five schools authorized in a single year," added Etienne Herrera. "We feel that the CP is an outstanding complement to the value proposition we have for our university-preparatory schools because it enables us to prepare our students for the practical aspects of university life through career-related study."
Thanks to their IB education, CP students, in addition to developing international mindedness and disciplinary understanding, are given the opportunity to engage with the career-related studies of their choice, allowing them to more easily transition to university life. The skills and dispositions that the students in all IB programmes learn enable them to excel in their higher education pathways.
"Without a doubt, IB programmes enrich the schools where they are offered and completely transform both the teaching and learning processes. Our hope at Bachillerato UPAEP Tehuacán, through the CP, is to give the members of our school community the greatest competitive edge possible so that they can develop academically and expand their outlook from a global perspective," said Etienne Herrera.
You can learn more about UPAEP's schools here.