Speakers
We are pleased to announce this year's IB Global Conference keynote speakers.
Marc Brackett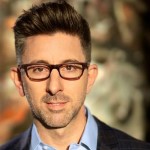 Marc Brackett, Ph.D., author of Permission to Feel, is the founding director of the Yale Center for Emotional Intelligence and a professor in the Child Study Center, Yale School of Medicine at Yale University. His grant-funded research focuses on: (1) the role of emotions and emotional intelligence in learning, decision-making, creativity, relationship quality, and mental health; (2) the measurement of emotional intelligence; and (3) the influence of emotional intelligence training on children's and adults' health, performance, and workplace performance and climate.
Marc has published 125 scholarly articles and has received numerous awards, including the Joseph E. Zins Award for his research on social and emotional learning and an honorary doctorate from Manhattanville College. He is also a distinguished scientist on the National Commission on Social, Emotional, and Academic Development, and on the board of directors of the Collaborative for Academic, Social, and Emotional Learning (CASEL).
He is the lead developer of RULER, a systemic, evidence-based approach to social and emotional learning that has been adopted by over 2,000 public, charter, and private schools across the United States of America (pre-school through to high school) and in other countries including Australia, China, Italy, Mexico, Spain, and the United Kingdom.