Information on conference venue, travel advice and accommodation for the IB Global Conference, The Hague.
Venue: World Forum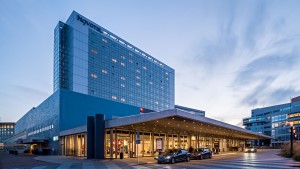 The World Forum is a state-of-the-art convention centre offering the largest auditorium in the Netherlands and numerous presentation spaces.
Nestled in heart of The Hague, close to both the beach and city centre and within easy driving distance of two international airports.
Address
Churchillplein 10, 2517 JW The Hague, The Netherlands
Travel advice
For more information on getting to the conference, venue, and generally travelling around The Hague, visit our dedicated page.
Accommodation
Special rates have been negotiated with hotels for our conference delegates. Hotels are conveniently located within walking distance of the conference venue. We have also arranged a selection of hotels in the city center or at the beach. Please find below a comprehensive list including price information and booking links.
To take advantage of these hotel offers, we advise participants to book their accommodation before the 30 July 2020. The rates quoted are subject to room availability at the time of booking and will be allocated on a "first come – first served" basis. Prices are per room per night in euro.
Accommodation within walking distance of conference venue

Room information and rates

Booking link

Leonardo Royal Hotel Den Haag – Promenade 5*

Van Stolkweg 1, 2585 JL The Hague

Deluxe/Executive room single use: EUR 130.00

Deluxe/Executive room double use: EUR 149.50

(breakfast, VAT incl. – city tax €5.35 additional)

Novotel Den Haag World Forum 4*

Johan de Wittlaan 42 - 44, 2517 JR The Hague

Standard single use: EUR 129.00

Standard double use: EUR 149.00

(breakfast, VAT incl. – city tax €5.35 additional)

Johan de Wittlaan 30, 2517 JR The Hague

Standard single use: EUR 130.00

(breakfast, VAT incl. – city tax €5.35 additional)

The Hague city center

Room information and rates

Pr. Margrietplantsoen 100, 2595 BR Den Haag

28.10-29.10.2020: Standard double single use: EUR 169.00

30.10-31.10.2020: Standard double single use: EUR 99.00

(breakfast, VAT incl. – city tax €6.50 additional)

Bezuidenhoutseweg 53, 2594 AC Den Haag

Superior room for single use: EUR 179.00

Superior room for double use: EUR 195.00

(breakfast, VAT incl. – city tax €5.35 additional)

Novotel Suites Den Haag City Centre 4*

Grote Marktstraat 46, 2511 BJ The Hague

Standard single use: EUR 135.00

Standard double use: EUR 150.00

(breakfast, VAT incl. – city tax €5.35 additional)

Novotel Den Haag City Centre 4*

Hofweg 5 - 7, 2511 AA The Hague

Standard single use: EUR 137.00

Standard double use: EUR 152.00

(breakfast, VAT incl. – city tax €5.35 additional)

Mercure Hotel Den Haag Central 4*

Spui 180, 2511 BW The Hague

Standard single use: EUR 131.00

Standard double use: EUR 151.00

(breakfast, VAT incl. – city tax €5.35 additional)

Holiday Inn Express The Hague – Parliament 3*

Lange Houtstraat 5

2511 CV, The Hague

Standard single use: EUR 145.00

(breakfast, VAT incl. – city tax €5.35 additional)

Jan Hendrikstraat 10, 2512 GL The Hague

Standard single use: EUR 121.00

Standard double use: EUR 136.00

(breakfast, VAT incl. – city tax €4.60 additional)

Parkhotel Den Haag 4*
Molenstraat 53, 2513 BJ The Hague

Classic single room: € 111.25

Superior room for single use: € 142.50

Superior room for double use: € 159.00

(breakfast, VAT incl. – city tax €4.60 additional)

Promotion code: IBO20

The Hague coast and beach

Room information and rates

Gevers Deynootweg 63, 2586 BJ Scheveningen

Standard single use: EUR 119.00

Standard double use: EUR 129.00

(breakfast, VAT incl. – city tax 5.35 additional)


Promotion code: IBO2020