During times of crisis children's behaviours may change. This resource aims to support educators of learners aged 3-18 in identifying and responding to these behaviours.
Children need to feel safe and secure, especially so when experiencing a crisis. Their behaviours may change or they may ask questions to make sense of what is happening around them.
The most common wonderings children have are:
Will I be okay?
Will you be okay?
Will everyone I love be okay?
Will the world be okay?
The following steps provide guidance on how you, the educator, can respond.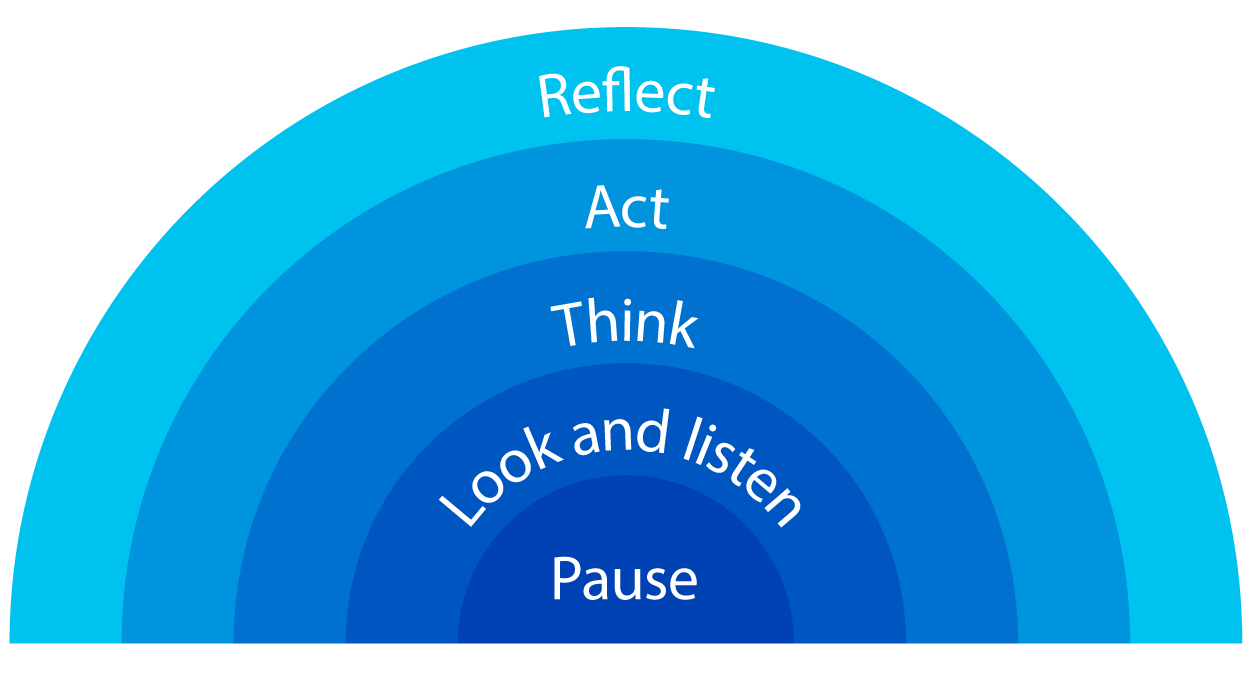 For more information on supporting student dialogue, go to Facilitating dialogue in the classroom.
Children at different ages will express their wonderings and concerns in different ways.
Young children
Young children are not always able to express their concerns verbally and often express anxiety in other ways. They become aware of the emotional energy of the adults around them. They hear what is being spoken about either by adults or through the media and make their own assumptions. They will need support to explore and discuss these issues in an impartial way. It is important to watch out for behaviour that is not typical.
Columns
What you might see or hear:

Wanting to stay with parent or educator.
Regressive behaviour such as toileting accidents.
Refusal of tasks they would normally participate in.
Angry outbursts.
Recreating events through talking, role-playing or drawing.
Increase or decrease in usual activity level.
Changes in concentration.
Strong reaction to loud noises, changes in routine, minor bumps and bruises.
Complaining about stomach aches or headaches.

Possible actions:

Reassure and comfort children that their reactions are normal.
Use consistent routines to give structure and familiarity.
Adapt routines to give parents and carers more time to drop off and settle their children.
Provide additional unstructured time for play or downtime. Reduce content demands.
Avoid making assumptions about what children want or need to know. Be guided by their wonderings.
Let children know that there will be a set circle time when they can ask questions.
Use mindfulness routines or restorative circles to help children articulate their thoughts and feelings.
Answer questions honestly, using simple, age-appropriate language.
Help children name their feelings. Let them know it is okay to feel sad or angry.
Provide open-ended resources for children to use to express any fears or questions.
Model self-care routines such as calming breathing.
Acknowledge their agency. Help them co-construct positive ways in which they could take action.
Adolescents
Adolescents understand difficult realities and are very attuned to the reactions of the adults around them, as well as their peers. They want to help and may express an emotional rather than a rational response. They want to know about what is going on and will access a wide variety of sources, some of which might be biased or fake. They may want to debate the facts and can have strong or challenging opinions. They may need support to explore these opinions objectively. It is important to watch out for behaviour that is not typical.
Columns
What you might see or hear:

Avoidance behaviours or changes in motivation.
Angry and/or aggressive outbursts, which may express a desire for violence or revenge.
Changes in engagement in their learning.
Making jokey comments or not seeming to take the situation seriously.
Making and voicing ill-informed assumptions.
Irritability with peers and teachers.
Withdrawal from peers or activities or changes in energy levels.
Absence from school or increased complaints, such as headaches, and stomach aches.
Recreating events through expressive arts or writing.
Seeking and sharing information from peers, social media or websites, some of which may be inaccurate.

Possible actions:

Be visible and available. Let students know when they can speak to you privately or confidentially.
Use consistent routines to give structure and familiarity.
Use discussion protocols to model and scaffold serious but respectful dialogue.
Model and discuss self-care routines.
Establish what they know and follow the lead of the students.
Provide opportunities for students to ask questions. Answer them calmly, honestly and objectively.
Direct them to reliable sources of information.
Model and support critical thinking when exploring material.
Consider your words, tone and body language when responding to questions or sharing information.
Acknowledge their agency, by helping them construct positive ways in which they could take action.
Give students space. Reduce content demands.
Model and support the use of restorative circles and practices to help students articulate thoughts and feelings.
Links to external resources for educators
Supporting younger children in a crisis (English)
Supporting adolescents in a crisis (English)
Picture books for resilience — with guides (English)
Understanding mental health (English and Spanish)