Below, you will find information about the panels and speakers of the African Education Festival in Accra, Ghana.
Conrad Hughes is a keynote speaker at the African Education Festival. He'll tell us more about what schools should be doing to stimulate best practice, thinking, and educating in the 21st century.
Dr Patrick Awuah
President of Ashesi University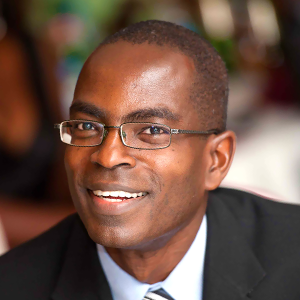 Speaker Bio:
Patrick Awuah is the founder and president of Ashesi University, a private, not-for-profit institution that has quickly gained a reputation as one of Ghana's finest institutions of higher learning. Patrick left Ghana in 1985 when Swarthmore accepted him on a near-full scholarship. In 2001, after living in America for almost two decades, Patrick Awuah returned to Ghana.
Before founding Ashesi University, Patrick worked as a Program Manager for Microsoft where, among other things, he spearheaded the development of dial-up internet working technologies and gained a reputation for bringing difficult projects to completion.
He holds bachelor degrees in Engineering and Economics from Swarthmore College; an MBA from UC Berkeley's Haas School of Business; and honorary doctorates from Swarthmore College and Babson College.
In recognition of his service to Ghana,Patrick was awarded Membership of the Order of the Volta by His Excellency, President J.A. Kufuor in July 2007. The Order of the Volta is one of Ghana's highest awards, given to individuals who exemplify the ideal of service to the country.
He has won many prestigious international awards including the MacArthur Fellowship and the McNulty Prize. In 2015, Patrick was named one the 50 greatest leaders in the world by Fortune Magazine. He has also twice been recognized by a PricewaterhouseCoopers survey of Ghanaian CEOs as one of the ten most respected CEOs in Ghana. In December 2015, Patrick was recognized by Africa Leadership Initiative — West Africa (ALIWA) as a "Genius Fellow" an honour reserved for only 20 people around the world. At the eighth World Innovation Summit for Education in Qatar in 2017, Patrick was awarded the WISE Prize for Education by Her Highness Sheikha Moza bint Nasser.
He is a Fellow of the Africa Leadership Initiative of the Aspen Global Leadership Network; a member of the Council on Foreign Relations; and a member of the Tau Beta Pi honor society for excellence in engineering.
Read Patrick's blog for more thoughts on trends in education and visions for the future in teaching and learning.
Dr Conrad Hughes
Campus and Secondary Principal at the International School of Geneva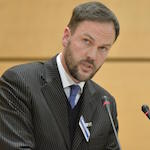 Speaker Bio:
Dr Conrad Hughes is Campus and Secondary Principal at the International School of Geneva, La Grande Boissiere, the oldest international school in the world. He has been school principal, Director of Education, International Baccalaureate Diploma Programme Coordinator and teacher in schools in Switzerland, France, India and the Netherlands. He teaches philosophy. His PhD is in English literature.
A South African citizen, he attended Waterford Kamhlaba, the United World College of Southern Africa where he completed the IB Diploma Programme. He is currently undertaking doctoral research at Durham University on the relationship between prejudice and education with specific focus on how education can reduce prejudice. His research interests also include 21st Century Education, Critical Thinking, International Education and Assessment. He is the author of numerous articles in peer-reviewed journals and as Director of Education at the International School of Geneva he led the publication of Guiding Principles for Learning in the 21st Century with UNESCO.

His latest book, Understanding Prejudice and Education: The Challenge for Future Generations, was published in 2016 by Routledge.
Read more about the panels and speakers below and see here for information on the conference schedule.
Panels
Panel 1: Being an international school - Promoting intercultural awareness and international mindedness in your institution
The International Schools Consultancy (ISC) estimates that there will be over 1500 international schools in Africa by 2025. The ISC defines international schools as a school which "delivers a curriculum to any combination of pre-school, primary or secondary students, wholly or partly in English outside an English-speaking country. If the school is in a country where English is an official language, it "offers an English-medium curriculum other than the country's national curriculum and the school is international in its orientation." What is our understanding of Intercultural mindedness/understanding, International mindedness/understanding, Intercommunity mindedness/understanding? What makes a school international? How does a school create an environment that fosters and promotes respect and understanding for other perspectives, cultures and languages or even the ability to see oneself as a responsible member of the community and a global entity?
Moderator: Fidelis Nthenge, Head of IB World Schools
Panelists:
Ken Darvall, Tema International School, Ghana
Dr. Mary Ashun, Head, Ghana International School
Taid Rahimi, Arc-en Ciel, Togo
Panel 2: How to meaningfully integrate technology in your school
The Ed-tech industry has grown substantially to accommodate the increasing need of schools to integrate technology in their institutions. We live in world that is intertwined with technology. However, successful technology integration is a challenge that schools grapple with. Working with digital natives and the growth of technological pursuits requires that schools and learners are efficient and successful at weaving technology in key facets of school life. What are the various ways schools can adopt technology in a sustainable manner? How does a school develop a successful digital strategy by assessing, creating and implementing a strong model which involves teacher training and participation and student/parent support? In what ways can this impact positively on teaching and learning outcomes and a school's digital footprint/culture?
Moderator: Ed Lawless, Chief Academic Officer, Pamoja
Panelists:
Kevin Piersialla, Regional Director, EMEA, ManageBac
Jennie McKenzie, Follett School Solutions | International
Joyce Agyare, Regional Manager, West Africa and Kenya, Scholastic Inc
Karin Bjerde, Business Development and External Relations, Kognity
Panel 3: The Learner Profile - Developing globally competent students
The IB Learner profile provides a set of attributes that helps guide the work of schools to develop students who can successfully navigate the 21st century. The attributes encompass the development of 21st century skills such as creativity, critical thinking, collaboration, communication and other career and life skills. Countries like Australia, Rwanda and Singapore have developed similar frameworks to help develop students with competencies that incorporate both academic and life skills. The desired outcome of the LP is to develop the whole person and create lifelong learners. What are the attributes of the Learner Profile? What are the skills needed for the 21st century? How does a school train its students to exhibit these attributes to be globally competitive?
Moderator: Adzo Ashie, IB Africa Regional Development Manager
Panelists:
Dr. Fatma Odaymat, Principal, Al Rayan International School, Ghana
Taid Rahim, Principal, Arc-en Ciel International School of Lome, Togo
Helen Chatburn-Ojehomon, Vice Principal, Ibadan International School, Nigeria.
Professor Anthony Jarvis, Provost, Lancaster University, Ghana
Panel 4: Creating excellent schools - Running a school that promotes transformational education
What does an excellent school look like? How does one create institutional excellence that promotes transformational education? Does it depend on the school leader or does it require a cultural shift in the school environment? Is it created by a curriculum? Experienced educators and supportive parents? What are the ingredients of an excellent school and does that really exist?
Moderator: Proserpina Dhlamini- Fisher, Director of Education, United World College
Panelists:
Mr. Titi Ofei, Principal, SOS -Hermann Gmeiner International College
Mrs Koiki- Founder, Head, Greensprings School, Nigeria
Samuel Darko, Director of Outreach, Africa Leadership University, Mauritius
Panel 5: Developing and sustaining professional learning communities
Professional learning communities (PLCs) are a way of organizing educational staff so that they can engage in purposeful, collegial learning with the aim of improving staff effectiveness so that all students learn successfully (Hord, 2008). What are the key components of creating a highly effective professional learning community? What are the benefits, if any, of promoting increased collaboration among teachers? How do school leaders create an environment that nurtures and develops a highly effective and professional learning community?
Moderator: Martin Muchena, Curriculum Manager, Diploma Programme, IB Africa, Europe and the Middle East
Panelists:
Anis Haffar, Founder, GATE Institute
Kwabena Amporful, Founder, INTED
Jonathon Marsh, Manager of Professional Development, Aga Khan Academies
Workshops
Bridging the Gap - Preparing students for jobs of the future
Africa's youth population is projected to be the largest in the world. Harnessing the potential of young people is key to the continent's development. In an increasingly complex world, employers are looking to hire people with a variety of skills and knowledge to successfully navigate the changing landscape of the workplace.
This interactive session will provide an opportunity for participants to delve into a rich discussion on the future workplace and the skills and attitudes needed to thrive and succeed. What are employers looking for? How do school leaders, policy makers and institutional leaders prepare students for life and work after school?
Facilitators:
Jon Halligan, Head of Development, IB Africa, Europe and the Middle East
Dolly Wanjiku, Associate Development Manager, IB
Panel 7: Understanding Leadership
Leadership is in part a social construct, positioned in time and place and influenced by personality.
The workshop explores leadership capabilities and intelligences, the core themes and the leadership processes that are considered the most supportive of effective leadership in a range of IB schools and IB contexts. There will be an emphasis on the complex, contextual and holistic nature of leadership, and you will build a deeper understanding of how to adapt your leadership style in different contexts. This interactive workshop will also expose participants to current research on leadership and participants will leave with a greater understanding of their unique leadership style and information on resources to build on their leadership abilities.
Facilitators:
Catherine Ige, Head, Ibadan International School, Nigeria
Bukky Okunnuga Otono, Global Professional Development Associate Manager, IB
Best practices in Leading and Learning in the African Context
This workshop will explore the journey of our school in unpacking the IB curriculum in the African context through best practices in teaching and learning. This workshop will share the insights into our experiments with international mindedness, lifelong learning and creatIng an inclusive yet innovative learning space. We will share our case studies on:
Promoting International mindedness in the non-western contexts- defining International mindedness in the local context.
Building Capacity in our community- through developing a teacher training workshop and intern programme.
Creating innovative learning spaces-spaces that integrate physical and digital platforms to promote student agency.
Creating a culture of leadership-teachers as the change makers, developing potential through a culture of coaching and mentoring.
Facilitators:
Shwetangna Chakrabarty, Dar es Salaam International Academy, Tanzania
Natasha Haque, Dar es Salaam International Academy, Tanzania