Maysa Jalbout
Maysa Jalbout is currently the Chief Executive Officer of the Abdulla Al Ghurair Foundation for Education in the United Arab Emirates.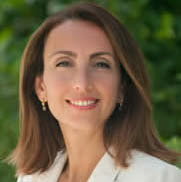 Established in July 2015, the Abdulla Al Ghurair Education Foundation is one of the largest privately funded philanthropic education initiatives in the Arab world, devoted to equipping Arab youth with the knowledge and skills they need to become future leaders of the Region.
She advises on social policy and programming, with a particular emphasis on education in international development.
Maysa is affiliated with two of the world's leading think tanks, as a Non-resident Fellow at The Centre for Universal Education of The Brookings Institution in Washington, DC and as a Senior Research Associate at the Humanitarian Policy Group of The Overseas Development Institute in London, UK.
She has created, led and contributed to innovative policies, multi-country programmes, foundations and non-governmental organizations (NGOs) in North America, Middle East, Southern Africa, South Asia and Eastern Europe. She has built new initiatives, campaigns and organizations that challenge the status quo and set higher standards for achievement.
Maysa has been actively involved in channeling more aid to education goals, setting gender equity policies in education, developing programs for hard to reach communities including conflict zones, and promoting alternative approaches to increasing access to quality education in developing countries.
Most recently, Maysa spent five years in Jordan where she was the Founding CEO of the Queen Rania Foundation and the Vice-Chair of the Jordan River Foundation. In Ottawa, Canada, Maysa spent over ten years working for the Government of Canada. She was Assistant Director for the Social Policy Directorate and Senior Adviser for the Education Group at the Canadian International Development Agency.
Prior to that, she was Senior Policy Adviser in the Social Policy Group and Youth Employment Directorate at Human Resources Development Canada. Maysa started her career with AIESEC - an international youth leadership organization that promotes cultural understanding through exchanges.
Maysa's current areas of research include philanthropy in education, the future of jobs in the MENA region, technology in education and the impact of conflict on children.