Dianne Drew
A native of Melbourne, Australia, Dianne Drew is an internationally recognized educator with over 25 years of experience in administration, teaching, curriculum development, and educational consulting in both public and private schools in Australia, Asia, and New York City. She earned a Bachelor of Arts degree and a Post-Graduate Diploma of Education from Australia's Monash University, and a Master's Degree in Educational Leadership and Management from Bath University, UK.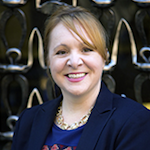 Prior to becoming Head of School, Ms Drew served as Dwight's Director of Curriculum and Professional Development for kindergarten-grade 12, and she oversaw the IB Middle Years Programme (MYP). Ms Drew is an accomplished IB workshop leader, site evaluator, and consultant for the MYP. For five years she served as Vice President for the Guild of IB Schools of the Northeast (MYP), which is comprised of over 100 public, private, and parochial schools. In 2015, Ms Drew was elected as a member of the prestigious IB Heads Council, serving in a strategic leadership capacity and advising the Director General of the IB, Siva Kumari, on important IB issues impacting students today.
To ensure strong connections across the various areas of our community, Ms Drew sits on the boards of the Dwight Parents Association (nursery-grade 12) and The Dwight Schools, our global network of five campuses spanning three continents. Ms Drew is passionate about promoting faculty professional development to ignite the spark of genius in every teacher; and fosters enriching cross-campus curricular collaborations around The Dwight Schools to benefit all Dwight students.