Venue and accommodation
The World Forum is the international convention centre of The Hague which is situated adjacent to the IB Global office between the city centre and the famous Den Haag Scheveningen beach.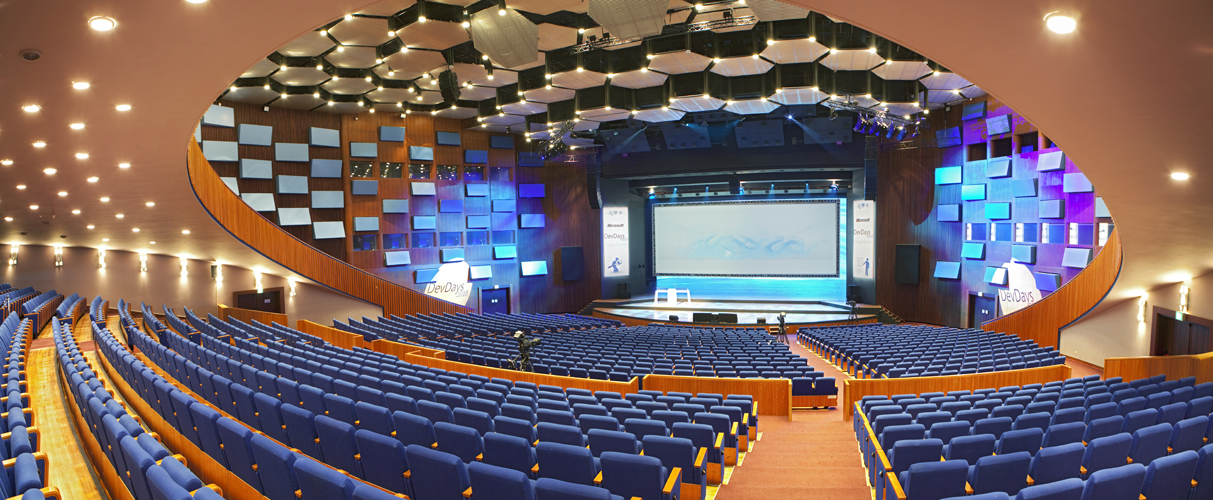 The World Forum is home to the largest auditorium theatre within The Netherlands, with spacious presentation rooms and pleasant modern common areas. The IB has used this venue as its conference location every two years since 2011 as a sense of community has evolved over time, as well as a wealth of shared experiences.
Address:
Churchillplein 10
2517 JW The Hague
The Netherlands

We have appointed Sky Team as our official Airline Network for conference delegates. To obtain Sky Team rates please click here.
We have negotiated special rates with excellent hotels for our conference delegates, conveniently located within walking distance to the conference venue. If you would like to combine your attendance to the conference with leisure, we also have arranged a selection of hotels in the center of the city or at the beach. Please find the selection below, including price and booking links.
To take advantage of these hotel offers, please book your hotel accommodation before 30 July. Please note that the majority of hotel availability throughout The Hague may sell out and rates are subject to availability. Please use the booking links below for special IB Conference delegate rate.
The rates quoted are subject to availability at the time of booking and will be allocated on a first come, first-served basis. Prices are per room, per night in euros.
Walking distance to the conference venue
Rates (subject to availability)

Crowne Plaza Den Haag - Promenade 5*

van Stolkweg 1, 2585 JL The Hague

Superior single use: EUR 130.00

Superior double use: EUR 153.50


Executive single use: EUR 155.00

Executive double use: EUR 178.50

(Breakfast and VAT included, city tax additional)

Novotel Den Haag World Forum 4*

Johan de Wittlaan 42-44, 2517JR The Hague

Standard single use: EUR 117.00

Standard double use: EUR 137.00

(Breakfast and VAT included, city tax additional)

Marriott The Hague 4*

Johan de Wittlaan 30, 2517JR The Hague

Standard single use: EUR 127.00

Standard double use: EUR 142.00

(Breakfast and VAT included, city tax additional)

B-Apart Hotel Kennedy 4*

Stadhoudersplantsoen 18, 2517 JL The Hague

Studios single/double use: EUR 120.00

Apartment single/double use: EUR 135.00

(Breakfast for one and VAT included, city tax additional. Extra breakfast is 15 EUR per person and an extra sofa-bed can be requested for apartments for 15 EUR per night)

The Hague city centre
Rates (subject to availability)

Hilton The Hague 5*

Zeestraat 35 I, 2518 AA The Hague

Hilton Guest Rooms - single use: EUR 199.00

Hilton Guest Rooms - double occupancy: EUR 209.00

(Breakfast and VAT included, city tax additional)

Carlton Ambassador 4*

Sophialaan 2, 2514 JP The Hague

Superior single use: EUR 125.00

Superior double use: EUR 145.00

(Breakfast and VAT included, city tax additional)

Novotel Suites Den Haag City Centre 4*

Grote Marktstraat 46

2511 BJ The Hague

Standard single use: EUR 117.00

Standard double use: EUR 137.00

(Breakfast and VAT included, city tax additional)

Novotel Den Haag City Centre 4*

Hofweg 5-7, 2511 AA The Hague

Standard single use: EUR 112.00

Standard double use: EUR 132.00

(Breakfast and VAT included, city tax additional)

Mercure Hotel Den Haag Central 4*

Spui 180, 2511 BW The Hague

Standard single use: EUR 112.00

Standard double use: EUR 132.00

(Breakfast and VAT included, city tax additional)

Holiday Inn Express The Hague - Parliament 3*

Lange Houtstraat 5, 2511 CV The Hague

Standard single use: EUR 140.00

Standard double use: EUR 140.00

(Breakfast and VAT included, city tax additional)

Ibis Den Haag Central 3*

Jan Hendrikstraat 10, 2512 GL The Hague

Standard single use: EUR 102.00

Standard double use: EUR 122.00

(Breakfast and VAT included, city tax additional)

Parkhotel Den Haag 4*

Molenstraat 53, 2513 BJ The Hague

Budget room for single use: EUR 115.00

Superior room for single use: EUR 130.00

Superior room for double use: EUR 145.00

(Breakfast and VAT included, city tax additional)

The Hague seaside
Rates (subject to availability)

Ibis Den Haag Scheveningen 3*

Gevers de Deynootweg 63

2586 BJ, Scheveningen

Standard single use: EUR 99.00

Standard double use: EUR 119.00

(Breakfast and VAT included, city tax additional)