How to become an IB World School
Schools interested in implementing International Baccalaureate® (IB) programmes must successfully complete an authorization process.
The IB supports the candidate school throughout the authorization process, building the programmatic understanding and organizational structures it will need to implement the IB's programmes.
How to apply
Please complete the following form to receive more information on becoming an authorized IB World School.
If you are already an authorized IB World School and would like to add another programme, please log on to your My School profile and select "intend to apply" for the preferred programme.
Why is there an authorization process?
The IB is proud of its commitment to provide rigorous, challenging and unique programmes of education to schools. The authorization process backs up this commitment.
As a result of the process, parents and students can be confident that each IB World School, no matter where it is located, is held to the same high standard.
General timeline for the process
The authorization process varies by school and IB programme, but typically takes between two and three years. Below, you'll see an outline of the process.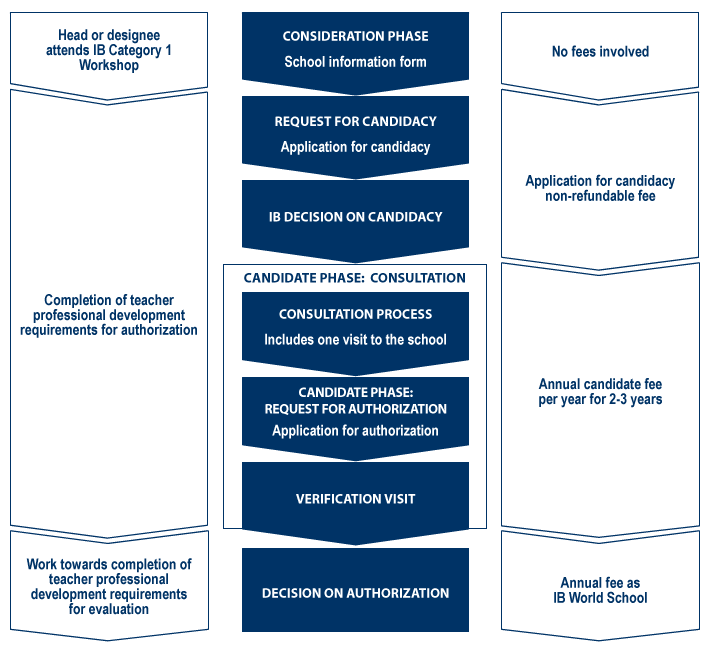 Stages in the authorization process
You can also view global authorization timelines for each programme specifically, or read about the different stages in the authorization process.
If you wish, you can find out more about the authorization process for each of the four IB programmes:
While there are specific requirements for each, the authorization process is designed to be consistent across all programmes.
Need more information?
If you're ready to begin the process, please complete the school information form now.
If you need more time, you can read about the benefits of an IB education before beginning the process; or contact your regional office for further information.