Senior Leadership Team
Find out more about the International Baccalaureate® (IB) Senior Leadership Team (SLT).
Carolyn Adams – Director of Strategy Development and Execution

Carolyn Adams, the IB's Director of Strategy Development and Execution, was previously the organization's Chief Assessment Officer.
Before the IB, which she joined in 2009, Carolyn was Examinations Director for AQA, the largest of the UK awarding organizations, where she was responsible for the successful delivery of around 4 million GCE A-level and GCSE results each year.
She has worked in virtually all aspects of assessment and curriculum development in a career spanning 30 years and a number of awarding organizations.
Prior to this she had a brief period as a secondary school teacher in England (teaching in the same school as the former IB Director General, George Walker, though joining it just after he left).
Carolyn has a BA in history from the University of Sheffield and a post-graduate certificate in education (PGCE) and an MA in history from the University of Windsor, Ontario.
Thaimur Changezi – Chief Financial and Business Officer

Thaimur joined the IB in June of 2016 as Director of Finance and Procurement in the IB Global Centre in Singapore. He has over 21 years of experience in finance, and brings a wealth of knowledge to his role at the IB. Thaimur has worked in the private sector in the Middle East, Europe, the US, and Asia Pacific, in areas ranging from business development and manufacturing to oil and gas. He holds a Bachelors' and Masters' degree in Finance.
As Chief Financial and Business Officer, Thaimur heads a team of over 80 people spread throughout IB Global Centres all over the world, covering Finance, IT operations, Facilities, Risk and Travel.
Andrew Macdonald – Chief Schools Officer

Andrew Macdonald joined the International Baccalaureate (IB) in 2014 as the Chief Schools Officer (CSO). He leads a team of 200 employees in the US, The Netherlands, Singapore, and Wales who are dedicated to serving over 4,500 IB World Schools attended by over one million IB students worldwide. As CSO, Macdonald oversees IB professional development, school authorization, ongoing support services to IB World Schools, and marketing and development.
Andrew has a combination of commercial and educational experience spanning over two decades. He has helped lead mission-driven organizations in North America, Europe, South America, Asia and Australia, covering international education, literacy improvement, computer-based assessment, and online learning. Working for such organizations as Renaissance Learning, Kaplan Virtual Education and Wilson Language Training, he developed significant cross-functional experience in marketing, business development, logistics, HR, IT, academic services, finance, and customer service.
Dr. Macdonald holds a B.A. from Drew University in Madison, NJ, an M.B.A. from Heriot-Watt University in Edinburgh, Scotland, and an Ed.D. from Northeastern University in Boston, MA. His research topic is entitled; Teacher Leadership and the Integration of Technology: Colliding Areas of Reform.
Paula Wilcock – Chief Assessment Officer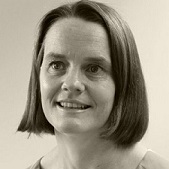 Paula Wilcock is the IB's Chief Assessment Officer, providing overall functional leadership and direction for the Assessment Division.
She brings over 20 years of experience to her new role including positions in school, college and professional and awarding body organizations. She has international experience through assignments in the Middle East, South Africa, Southeast Asia and Europe.
Paula has an MBA in Educational Management and is a chartered member of the Chartered Institute of Personnel and Development.